Instagram and Copyrights have walked hand in hand right from the birth of the social media giant.
There have been few incidences where people have accused Instagram of failing to tackle copyright issues on their platform. More often than not, photographers have been victims of these issues. In many cases, their photos were stolen without their consent and were SOLD elsewhere without their permission. Imagine the horror!
But well guys, its Internet.
ANYTHING CAN HAPPEN HERE!
This is what Instagram has to say about Copyright appeals: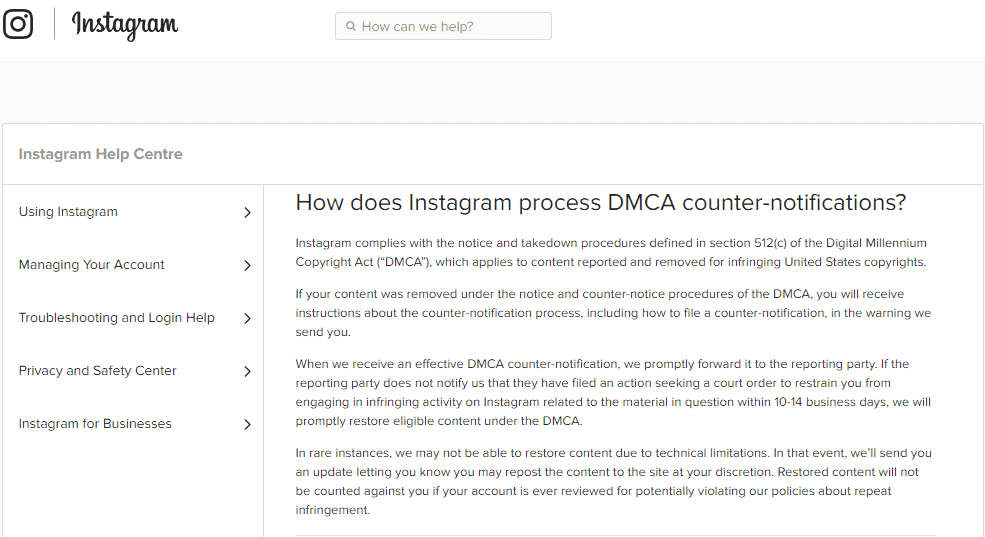 Hmmm…
This means if you appeal for copyright then and only then will the copied content be taken down!
Otherwise, you are free to use or "SHARE" media without the consent of the owner.
Instagram has made it clear in its terms and conditions that, whatever you post on Instagram may be copied/Shared/used by anyone on Instagram.
One such incident which took place in 2014, when photographer Sion Fullana's images were shared on Spanish Vogue's official Instagram account without credit: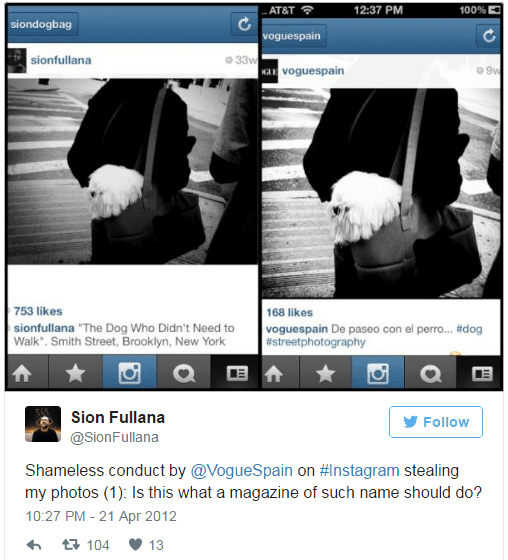 Later, they apologized though.
Can you copyright Instagram photos?
No!
You cannot. The best way to ensure your media is not stolen is to not to share them on Instagram!
However, after getting sued by many photographers, Instagram decided to tackle copyright issues in a more efficient manner. In 2017, Instagram rolled out a secret update that targeted users using copyrighted music in their videos!
I have an account where I share videos quite often. I just "REPOST" them on my account.
I was unknown to this update until Instagram sent copyright claims on my email.
Here's a snapshot:

Instagram took down many of the videos that I re-posted even though I gave full credits to their owners.
Later I found that it was not the videos that were copyrighted it was the MUSIC!
It was then when I came to know about the Instagram Copyright Music Issue!

How to Post Copyrighted Music on Instagram?
In case you love a particular music track or still want to use copyrighted music, here are few tips you can use to get around music copyright on Instagram:
1. ALWAYS GIVE CREDIT TO OWNERS!
No matter what content you Re-post/share, you should always give proper credit to owners. Also sometimes even after giving credits, your account may end up in danger as the owner might not want his content to be shared anywhere.
So ASK BEFORE RE-POSTING!!
Instagram itself doesn't forget to credit the owners of the content.
Here's a Boomerang video of a UK blogger which was shared by Instagram's Official Account:
2. Appeal if you want to use the Music!
In case you use a copyrighted soundtrack, Instagram's automated system may detect copyright infringement and also take your video DOWN!
Don't panic. You can still appeal to the owners to use it. Don't forget to give proper credits in Captions!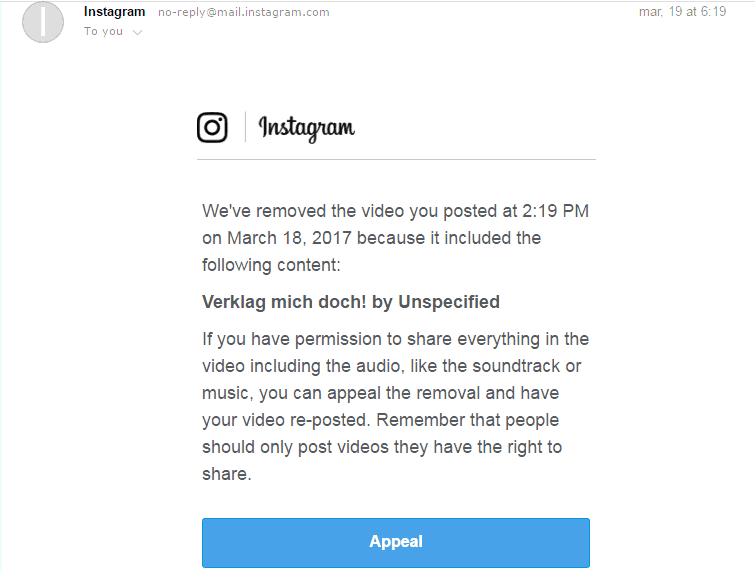 3. Make slight changes to the music!
Making a slight change to the music may help to skip the automated detection by Instagram, but if the owner finds your content, then you may get a copyrighted claim and your content will be removed!
You can use different Video editors (Android/IOS) to add background music to your videos!
Android: Magisto, VideoShow.
IOS: Cameo, Magisto.
4. Use Copyrighted Free Music for your Videos!
There are tons of websites on the internet that offer Copyright free Music on their website. You can use it to get around music copyrights.
Some websites that provide copyright-free music:
So this was all about copyrights on Instagram and how to handle it. Instagram has started taking artists and creator's content seriously and after this music copyright update, you can expect video and image copyright updates later!
I suggest focusing on creating full proof content so that you will never face any copyright issues.
I am sure these tips will help you to bypass Instagram copyright music. Let me know what you think about this!
UPDATE:
Many people are facing this issue as seen in the comments below. Some users aren't able to appeal and while some videos are still taken down even after appealing. Instagram hasn't come forward and discussed this issue in public. The best way to avoid this would be using instrumental music of the song or completely changing the song and using copyright free music from websites listed above.
Also, If you yourself want to file a Copyright of Your Stolen Content, you can fill the Instagram copyright form here:
https://help.instagram.com/contact/372592039493026
If you have any copyrighted music appeal, you can use the above link to report to Instagram. I am sure Instagram will take the content down!
Also Read: Avoid Spam Comments on your Photos