Looking for Diwali Instagram Hashtags this Diwali?

Here I have compiled a list of Instagram hashtags that you can use for Diwali posts. Be it OOTD (outfit of the day) post for Diwali or you bursting crackers. You can use these Diwali instagram hashtags to give your account more exposure on your personal brand or company profile.
Brands can use these hashtags to target people who are interested in the Diwali festival and promote their products to a targetted audience.
Let's take an example of Diyas or tea light candles companies. They can use Diwali hashtags to the target audience that is active on this festival of lights. 
Before coming to Diwali hashtags, let us understand what Diwali festival is actually. 
Diwali is a season of lights and prosperity. Diwali festival is celebrated in India. It is believed that on this day Rama returned to his people after 14 years of exile during which he struggled and won a battle against the devils and the demon king, Ravana. 
Now let us dive into the Diwali Instagram Hashtags list. I have personally curated these hashtags and categorized into various sections.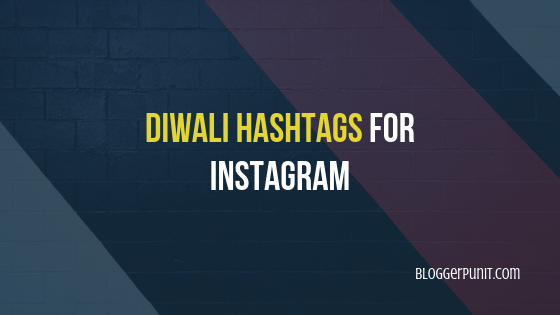 Sections are divided according to the Top post that has average likes below a certain number.
#diwalishopping
#diwaliparty
#diwalilights
#diwaligifting
#diwalisweets
#diwali_night
#diwaliwishes
#diwalispecial
#diwalicelebration
#deepawali
#ethniclooks
#diwalicollections
#festivaloflights
#festivaltime
#festivemood
#festive2019
#tealightholder
#diwalilights
#festivalshopping
#diwalidiyas
#diwaliseason
#diwali2k19
#diwaligifts
#deepawali
#happydeepawali
#festivaloflights
#festiveperiod
#festiveseason
#diwalilights
#diwalipune
#diwalidelhi
#indiandiwali
#diwalidecoration
#diwali2k18
#diwali2k17
#Diwalidecorations
#festive
#festivegifts
#festivevibes
#diwalivibes
#diwalioffer
#corporategifting
#diwalihampers
#diwalioutfit
#happydiwali
#diwaligift
#doorhangings
#toran
#homedecorindia
#festivalgifting
#diwali
#diwaliseason
#diwalidecor
#diwalirangoli
#festivecollection
#diwali (city_name)
#giftingideas
#diwalidiya
#diwalicelebration
#indianfestival
#diwali2019
#deepawali
#diwalisale
#festive
You can use these Diwali hashtags according to a number of likes you get on your pictures/videos. I recommend counting the likes/comments that you receive in the first 60-90 minutes of posting.
So for examples, If I post a picture and I get around 150 likes in the first hour after posting, I can use hashtags from the below categories:
Hashtags that have Top post below 100 average likes (More)
Hashtags that have Top post below 250 average likes (A Few)
What this will do is, as you are getting more likes than the first category, your post will be visible in the top section of the first category bringing in more likes and exposure. This may or may not (depends on likes) result in ranking in a few hashtags from the second category as well, giving you additional exposure!
You can call this a snowballing effect where lower hashtags help you rank in the top section of famous hashtags.
So these were the Diwali instagram hashtags that you can use for your
photos this Diwali
. You can use hashtags in captions or in the first comment (my favourite)
Wondering if instagram hashtags still work in the first comment?
I have written a detailed blog post on whether instagram hashtags work in the first comment or not: Click here to read
If you are looking for 250+ Instagram captions this Diwali, you can check my other post here:
Click here
I hope this article was useful and you were able to get the best Diwali Instagram hashtags for your Instagram account.