We all love to do things which makes us unique and different from the others. We all are born with talents and to shape our exceptional talent, we acquire skills. Some are born with an excellent brain, and some are born with high physical strength. There are various ways to show your physical and mental talent to the outside world and one of the platforms for this is Instagram. Yes! Today I am going to talk about Best Parkour Instagram Accounts.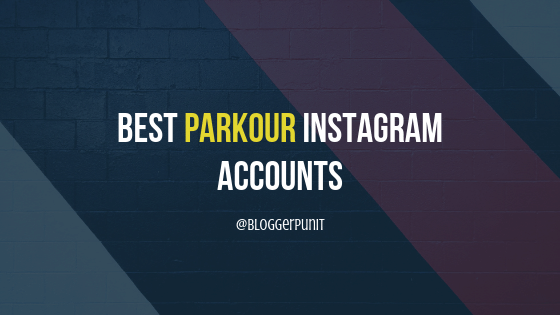 Nowadays, a new trend which has become more critical when it comes to extreme sports is Parkour. Challenging gravity, going against it and meanwhile performing some stunts such as running, vaulting, jumping, climbing, rolling, and other movements to travel from one place to another is one of the coolest things ever. The one who does it can be categorized under superhuman. Don't you think so?
Just the way they perform backflips and amazing jumps are seriously insane but stunning. The coolest part is that they all are connected to all the crazy fans out there through Instagram. So, you can get updates regarding the new stunt they invented and get your adrenaline boost. Cheers to all the best 10 parkour Instagram accounts that got featured here! But before that let us first get through the basic knowledge like, "what parkour actually is?", "When it was started and where?", "where it is more popular" and stuff like that.
Here we go.
What is Parkour?
Parkour is a training discipline using movement that was developed while performing military obstacle course training. The one who does it aim to get from one point to another in a complicated situation or environment without using any support and in the fastest and efficient way possible. The highlighted stunts performed during Parkour are running, freerunning, climbing, swinging, vaulting, jumping, plyometrics, rolling, quadrupedal movement (crawling) and other movements as deemed most suitable for the situation. Parkour involves seeing one's environment in a new way and imagining the potential for navigating it by movement around, across, through, over and under its features.
When and Where did this start?
Parkour was developed in France, beginning in the late 1980s, got popular through media such as internet videos, television commercials and documentaries and feature films such as James Bond movies and others. Writers on parkour trace its origins to the physical education and training methods developed beginning in the years before World War I by Georges Hébert and known as "la méthode naturelle."
Parkour has now spread to dozens of various other countries establishing its craze and engaging many to try it out.
W>Where Parkour is Popular?
p>When it comes to popularity, Washington (Parkour Visions), Colorado (APEX Movement), California (Tempest Freerunning), and Oregon (Revolution Parkour) comes under the top 10 list of parkour states. Long known as parkour hotspots in the USA, these states all had many dedicated practitioners, teams, and gyms since around a decade ago. It is mostly famous among youth and performing it on the streets is the new trend going on nowadays.
Now let us have a view on the Top 10 Parkour Instagram accounts and feel their experience through the posts shared by them.
B>Best Parkour Instagram Accounts
p>
1. @thejasonpaul
Original name- Jason Paul
https://www.instagram.com/p/B1691AjlZEg/
Unlocking rooftops run his favourite one. The best part is the way of taking shots, I.e. the cinematography. It is so perfect that you can feel the way he feels as he shares every stunt he does. The best part about his Instagram Feeds is the behind the scenes he posts, Really amazing. Content of his Instagram I'd will never bore the real fan of parkour as he's the same. Follow him to get the best version of parkour.
2. @loukewilson
Original name – Lucas Wilson
https://www.instagram.com/p/B05ibV2nY_I/
This person will surely make you sad about the fact that you are not that good athlete. Well, he loves to experience the moment close to physical and mental edges, when time seems to halt. He loves to play with gravity and does incredible and nearly impossible stunts which amaze the crazy fans around the world — a perfect one to follow who loves parkour and want to know discoveries related to it.
Original name – Tyler Puterbaugh
https://www.instagram.com/p/B11T74VHPQl/
With 18k followers in hand, this man is born with the talent of an athlete. He is a professional, free runner with seven years of training in hand, does mind-boggling stunts such as backflips, tumbling, tricking and much more to see in his posts. So, if you have the same craze then, go and follow him on Instagram.
Original name – Sam Blattner
https://www.instagram.com/p/BGC8rHnk7Sr/
Power guy. Stunts performed by him will give you Goosebumps and adrenaline boost. If you love to watch furious stunts and have a craze for flips, do follow him on Instagram like 1,856 people do and feel the way he feels when he does the insane parkour.
5. @benjcave
Original name – Benj Storror Cave
https://www.instagram.com/p/B2EacsvBj7P/
This guy loves to accept the challenges of different parkour stunts, which are nearly impossible to perform. He admits it, tries and achieves success in doing it. He adds fun to the severe parkour stunts and does it smoothly. Love to see people taking challenges and the way they face it, then follow him.
6. @drewftaylor
Original name- Drew Taylor
https://www.instagram.com/p/B1OxzszgDkz/
This guy proves that Parkour is not just a sport; it's an art. Along with the different stunts performed by him, you will also get to see some aesthetic pictures, which makes his account more appealing.
Original name- Callum Powell
https://www.instagram.com/p/B2HhFLNHFJX/
According to him, Parkour not only helps to overcome obstacles in the street but also obstacles you come across in day to day life as well. But remember, this excludes social interactions. He has been doing the stunts and shocking everyone since 2006. Follow him to know more.
Original name – pasha Petkuns
https://www.instagram.com/p/B16kFHJAgcI/
Fun, fun and fun. That's what you'll experience when you go through his account. He is a personality who loves fun while performing the stunts. So, if you want to see the fun way to perform parkour, follow him.
9. @domtomato
Original name- Dominic Di Tommaso
https://www.instagram.com/p/B180TLgFCuZ/
He does parkour, free running but mostly falling. He's unadulterated and pure parkour you'll ever meet. So go, follow him.
10. @Joescandrett
Original name- Joe Scandrett
https://www.instagram.com/p/B1yyofdnUk_/
He is best in defying gravity, and when it comes to stunt, he does it smoothly, fast as hell, unusual and unique performance. This person will never upset you if you are looking for a fantastic Parkour-ist. Go for it. Follow him and get the best moves of parkour.
That's all. The best one is here. Go follow best Parkour Instagram Accounts and catch up with the new trend of this extreme sport!
Also Read: Avoid Comment Spam on Instagram