Find the best Veterans day quotes you can use from an all in one article!
In the United States of America, Veterans day is celebrated on the 11th of November every year.
This day is significant because World War 1 ended on the 11th. A treaty was signed to end the hostilities between Germany and the Allied nations in 1918. It was initially referred to as "Armistice day" to honour world peace and the world war 1 veterans.
Today, the 11th of November is a legal holiday across the nation. The day honours all the veterans who have served in wars. Those who have been discharged from service, and those who are serving.
Best Heroic Veterans Day Quotes
Veteran, you will be our hero from today until forever. You veterans inspire the young and upcoming generations to serve the nation.
Year after year, every veteran is remembered, never forgotten. Thank you for all you have done for the nation and its citizens. Thank you for all that you continue to do.
1.    Our greatest glory is rising every time we fall. The falling does not count.
2.    Dear veteran, thank you for placing importance on the one promised made to the motherland. You gave it more importance than the 7 you made to your loved one.
3.    A hero understands the responsibility freedom requires.
5.    To be heroic is to be courageous to die protecting the nation.
6.    Brave hearts never back down. Thank you for your bravery Veteran.
7.    America will never forget your heroic deeds. We are forever indebted to you, Veterans.
8.    A hero is an ordinary person faced with circumstances, that encourage him to act with courage, honour, and self-sacrifice. You are our heroes Veterans!
9.    Heroes don't wear capes. They wear dog tags.
10.    A hero does good for good. Not for glory. Happy Veterans day!
11.    For those who courageously gave their lives, and for those who fight today. From one patriot to another, thank you, veterans.
12.    You gave your today, for our tomorrow. We are eternally grateful for your service.
13.    The life of freedom and peace has been brought to you by, a veteran.
14.    Dear veteran, you teach us that is better to fight for something than to live for nothing.
15.    Behind every veteran, is a stronger support system. Their family.
16.    You are a warrior for all the battles you have won, and for the ones you fought for.
17.    Here's to the veterans who step up and serve no matter what it costs them.
18.    Veterans leave a war, but the war never leaves them. Thank you for your service.
19.    The American military personnel is the most valuable player of the year.
20.    A hero understands the duty that comes with the uniform. The risks, the dangers, but goes ahead and serves the nation anyway. You are our hero, veteran.
Want Best Instagram Captions? Check out Instagram Captions here!
Best Veterans Day Quotes on Patriotism
1. Only two defining forces have ever asked to die for you. Jesus Christ and Veterans.
2. The strongest weapon in the United States is a patriotic America. Happy veteran's day!
3. We stand for the flag, we kneel for the fallen. Honor the veterans today.
4. Our nation under God is indivisible with liberty and justice for all.
5. Our flag does not fly because the wind moves it. It flies with each breath of the soldiers who have and are protecting it.
6. I am proud to be an American. I am grateful to be free, and will not forget the men that gave that right to you. Thank you to all the veterans.
7. Only god and the military can protect our land.
8. Patriotism is not the short emotional feeling, it is the dedication and service of a lifetime towards the state.
9. Veterans are a symbol of what makes our nation great.
10. May the flag wave boldly with its vibrant hues. Honoring veterans like you with the beautiful red, white and blue. Happy Veteran's Day.
11. We will never forget the price of freedom, you have paid for the nation, dear veteran.
12. To all those, who put themselves in the line of defense to protect the state. Thank you for your service.
13. The American flag is not flying backward, it is assaulting forwards
14. Real heroes, don't have a name behind their jersey. They have the country's flag on their uniform's arm. Thank you for our freedom.
15. My patriotic heart beats red, white and blue proudly.
16. It is because of you veteran that we salute the flag and because of you that we stand for the anthem,
17. There is no other banner worth waving than this flag.
18. Never doubt the power of a soldier who wears the colors red, white and blue proudly.
Best Veterans day quotes For the Military:
For the soldier, mariner, the airman and the coastguards. We remember each one of you this veterans day.
No matter what war you fought for, whether you won or lost.
This veterans day we celebrate, and honor each, and every one of you for your service to the nation. We civilians will forever be indebted to the sacrifices you all had to make.
A soldier does not fight because he hates what he left behind. He fights to save and protect what he left behind.
Once a soldier, always a soldier.
On the eighth day, God looked down on his planned paradise and said: "I need a protector." You are our protectors from all this evil, dear veteran.
A proud military family,divided by duty yet united by the love for the country.
Some people dream, some live the dream. Our military defends our dreams of freedom. Thank you,veterans.
Veterans because of you we feel safe and can sleep at night. Thank you for protecting America.
You paid for our freedom because it is not free. Thank you for that, veteran.
If you can read this, thank your teacher. If you can read this in English, thank your veterans!
A veteran acts more than he or she talks.
Born raised and protected,by gods, guns, and glory. America is indebted to you.
America's freedom will never be taken for granted. Because our veterans fought for it.
You may not be able to transition easily from the military to civilian life. However, you will always remain a veteran. And will forever be honored for your service.
Not all angels are made in heaven, they fight on the battlefield. You are our angel, veteran.
We don't know them all, but we owe them all.
Thank you for your voluntary service to the nation.
Best Veteran's day quotes to Express Gratitude This Veterans Day!
Thank you for serving our country and protecting our freedom.
Thank you for your greatest sacrifice for our freedom.
Home of the free because of the brave men and women like you. Thank you!
Thank you for your sacrifice and bravery.
Thank you and God bless you.God bless America.
Veterans, you did what others did not do. Thank you.
For your hard work and dedication, we thank you.
Thank you for your service.
Thanks to you, freedom still stands strong.
From a grateful American,thank you.
To all the veterans of every branch, thank you for placing your life on the line. So I may have mine.
With respect, honor, and gratitude. Thank you, veterans.
Thank you to all the military personnel for the sacrifices you have made to protect our freedom.
Thank you, Veteran. Words are not enough to express your great deeds.
In honor of all the veterans currently serving and those who served, we thank you. Happy veterans day.
Honoring veterans past, present and future. Thank you for your faithful service!
Thank you, veterans, for the ultimate sacrifice to secure our freedom.
Veteran, thank you for courageously doing what you are called to do. So we can safely do what we are free to do.
Freedom is not free. Thank a veteran!
Thank you for your courage to fight for our liberty and freedom veteran.
Our thanks to you for all you do, defending our flag red white and blue.
We often take for granted, the many things that deserve our gratitude. Today, we thank you.
For every moment, of peace and greatness. For the tiny liberties, we enjoy. We owe a person in service to our country. The nation thanks you.
Words fail to capture the debt and gratitude owed. All we can say is, thank you for the understanding of the sacrifices you have made. For our land, for us.
We will strive to be the kind of Americans worth fighting for. Thank you a veteran.
They said it: Best veteran day quotes by people
A short collection of famous quotes on veterans day from former presidents, to authors as well as philosophers. They said it all.
"A hero is someone who understands the responsibility that comes from freedom." Bob Dylan.
"A hero is someone who has given his or her life to something bigger than oneself." Joseph Campbell.
"The nation will remember the land of the free so long as it is the home of the brave." Elmer Davis,
"Our veterans accepted the responsibility to defend America and uphold out values when duty called." Bill Shuster
"As we express our gratitude, we must never forget that the highest appreciation is not to utter words, but to live by them." John F. Kennedy.
"How important it is for us to recognize and celebrate our she-roes and heroes!" Maya Angelou.
"To us in America, the reflections of Armistice Day will be filled with solemn pride in the heroism of those who died in the country's service and with gratitude for the victory, both because of the thing from which it has freed us and because of the opportunity it has given America to show her sympathy with peace and justice in the council of nations." Woodrow Wilson.
"The nicest veterans, the kindest and the funniest ones, the ones who hated war the most, were the ones who'd really fought."
"The willingness of America's veterans to sacrifice for our country has earned them our lasting gratitude." Jeff Miller.
"Valor is stability, not of legs and arms, but of courage and the soul." Michel de Montaigne.
"It is about how we treat our veterans every single day of the year. It's about making sure they have the care they need and the benefits that they have earned when they come home. It is about serving all of you as well you've served the United states of America." Barack Obama
"  It does not take a hero to order men into battle. It takes a hero to be one of those men who goes into battle." Norman Schwarzkopf
"Honoring the sacrifices that many have made for our country in the name of freedom and democracy is the very foundation of Veterans Day." Charles B. Rangel.
"We will not tire, we will not falter, we will not fail." George W. Bush
"Freedom is never more than one generation away from extinction. We didn't pass it to our children in the bloodstream. It must be fought for, protected, and handed on for them to do the same." Ronald Reagan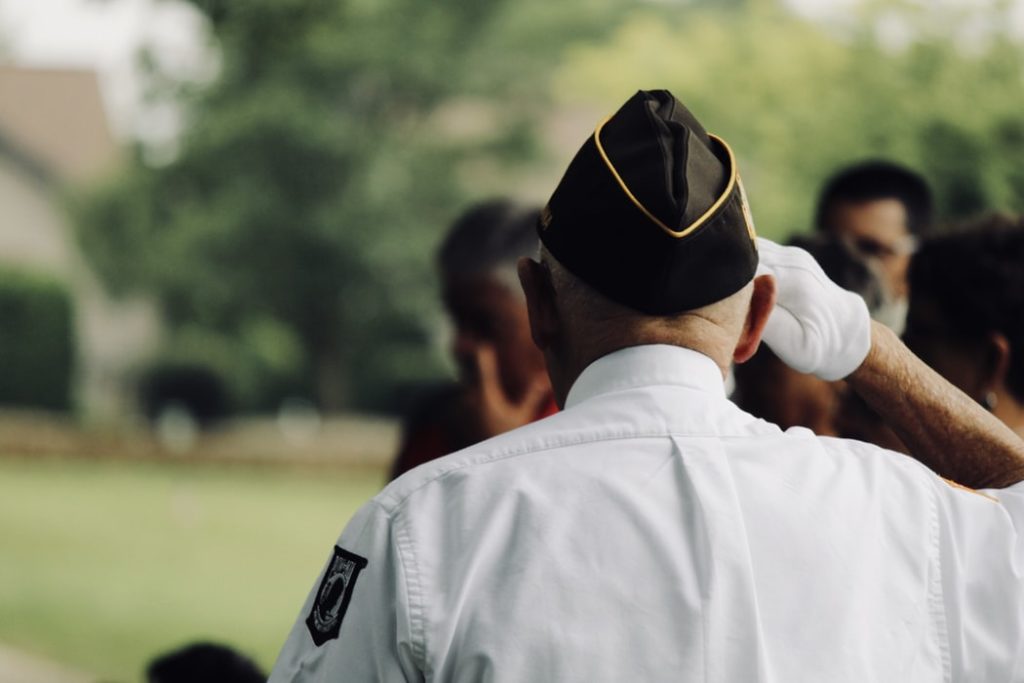 Veterans Day honors those who are serving the nation or have served the nation. Memorial Day on the other hand, celebrated on the 25th of May. It is a day to remember those who lost their lives in the line of service. Red poppies are often used as symbol for memorial day.
Celebrate each of these days with pride in your heart, and nationalism flowing through your veins.
Also Read – 350+ Best Instagram Captions for Photos and Selfies!