Classy, good and cool Instagram names are being used by girls and boys on instagram.
If you are not aware of instagram (not from earth?), instagram is photo/video sharing app available on IOS and android for free. You can share your personal photos and videos just like you share on Facebook.
But in 2018, instagram has evolved from sharing pictures and videos with your friends to being insta celebrities!!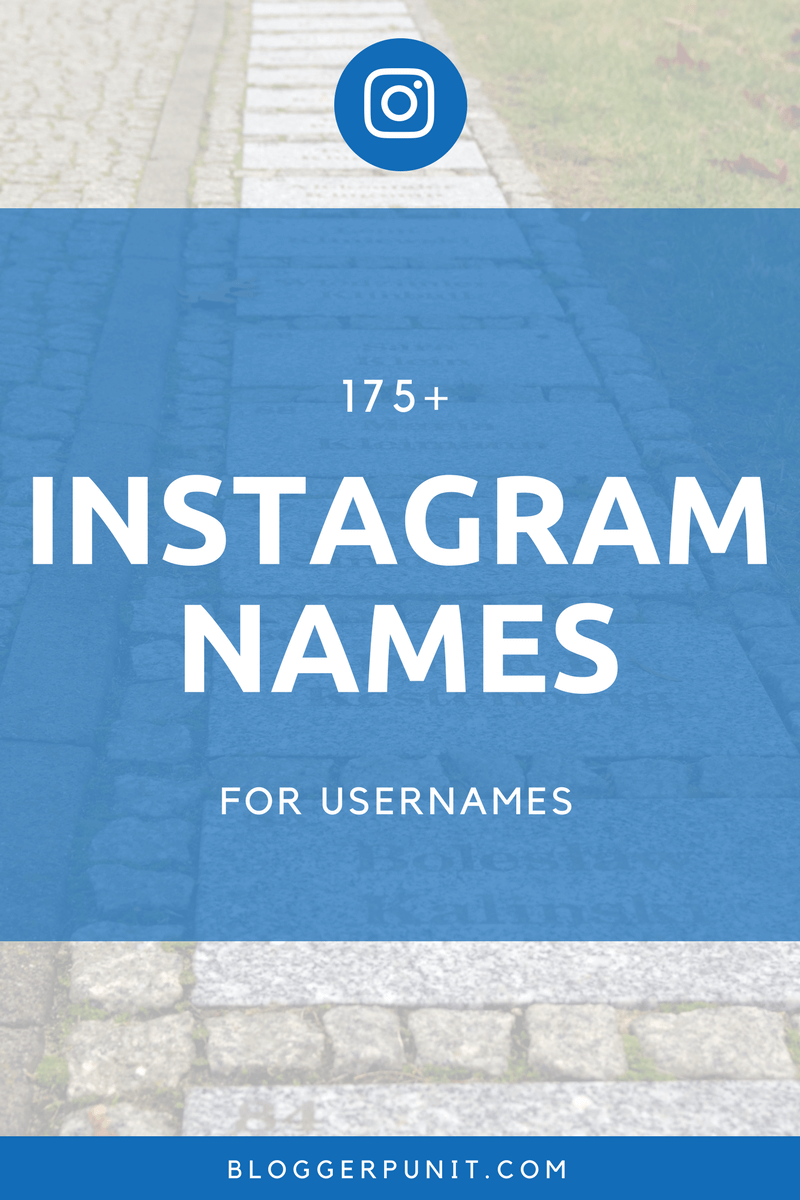 Celebrities, business, fan pages and brands, you can find everything on instagram.
FACT TIME: According to Mark Zuckerberg, an average Instagrammer spends about 45 minutes on Instagram.
45 minutes on instagram alone!!
Just imagine the content creation and consumption rate of instagram.
Instagram is huge!
As instagram makes this great journey, it has improved a lot since it was acquired by Facebook. I am talking about engagement, content creation, instagram polls, ways to make money on instagram and many more.
But today, we are going to look into Instagram names!
Let's get into basics first!
I will try to answer most asked questions now:
What is username for Instagram?
A username is a uniquely identified name that you set on instagram which lets other Instagrammers find you easily.
e.g. @bloggerpunit
Once I sign up with this username, and as long as I don't change it, no one else can acquire the same username.
How do you write your Instagram address?
Every Instagram account has unique URL.
It is: https://instagram.com/in[email protected]
eg:
https://instagram.com/bloggerpunit
How do you change your name on Instagram?
Below is the list of Instagram names that I have curated. You can use them by replacing old one.
To change you need to do following steps:
1. Go to settings. (Top right three dots)
2. Scroll to find "Edit Profile."
3. Change username/name.
Now you know how to change your username on instagram.
Moving on to the list.
175+ cool instagram names for username and finsta accounts:
I have categorized instagram names according to their categories. Scroll down to find which suits you best.
If you don't find the one you are looking for, mention it in comments, and I will add them up soon!
Good instagram names:
Pensiveze
Cupreous
Aeviternal
Cleansey
Leviathan
Coercion
Fabmor1Winnow
Dazzled
Celebrated
Litanypro777_xx
Omphalos
Micacraft2835
Glamordobby
Cinnamon
Transpicuous
Penumbra
Celluloid
Sequacious
SwaggkillHumor
Cereology
HanesLithe
Bethesda
Reciprocity
Talismanwas
Sammac2True
Alluvium
Ailurophile
Posiratio
Theophany
TickledPink
Blatherskite
Cathedralwa
Marginalia
FullesHowff
Hallucinate
McmullanMalady
Scialytic
Evanescent
Delitescent
Barmecide
Upskill
Hazelcast
Bandoline
Chiliad
Vervelegmy
Aidgeelg
Ragtopmonk3y
Yaraana
Epitaphy
SurmounBest
Jacqueminot
PilautKeen
Bowdlerize
Amicability
Rightshed
Salinenaxdy
Aesthete
Wundi20Sclera
Le123wiz0Sonata
Bricolge
EscrowVim
AtmofAria
Flying_walRazzia
MattdholLuxury
CadtylerZenith
Addma362
Unipedkett3458
Scofflaw
Junglizotnt
Delitescent
JjplatypusMoving
Penumbra
TheatLapUp
Evocative
PenoyPride
Clavilux
Emaciate
AlehUnity
Generavity
Dependable
Roseate
Summerywas
Prurient
Brecciate
Lullaby
Amin_say
Amphora
Elapseyasp
Cashmere
Frolicwas
TantonSylph
PuckenChoice
Rhysmckee99Sunny
Amicable
Botuliform
Bellswas
Backdouble
Galligaskins
Vicinaly
Labyrinthine
Concinnity
Escamotage
Closeness
SnockhawkFamous
Sardonyx
Cool instagram names:
PurplusSeton
Xenophilia
JosherRounce
Jacobin
Connate
Stritch
Economacy
Beatster
Musroldbox
Equative
Jazzetry
Anabiosis
Faveolate
Ragulykrackr
Quamoclit
Procellous
Tranche7
Benthic
Progenitor
Ulcuscle
MisprizUpher
Limerence
MichaVendee
Theosophy
Speluncar
HarcosBeira
Scansorial
Dispone
Chronomancy
Asseveration
Sialogogue
Koniscope
Solonist
Accourt
Polemology
Animism
Tamaraw
Dolioform
Enzymology
Ostentatious
Lixiviation
Ichnography
Sardonyx
Quiffykat45
Navetan567
Opisometer
Addorsed
GrimshirGodet
Diapason
Coniaker
BeccarPexity
Isodynamic
FoosLogice
JoncjgrahLitote
Glossography
Polysemant
Moocher
Telegnosis
Montiform
Cosmorama
Kinkajou
KirimKraken
Marabout
TildatWoundy
Ablative
Typhlophile
Vermeil
Technocracy
Humongous
Officious
to favorite">Ruiniform
Iambographer
Humectation
Neencephalon
Vigonia
Zegedine
Protasis
Uliginous
Topophone
Vallate
Embryoniform
Archiloquy
Frottage
Sensile