Classy, good and cool Instagram names are being used by girls and boys on instagram.
If you are not aware of instagram (not from earth?), instagram is photo/video sharing app available on IOS and android for free. You can share your personal photos and videos just like you share on Facebook.
But in 2018, instagram has evolved from sharing pictures and videos with your friends to being insta celebrities!!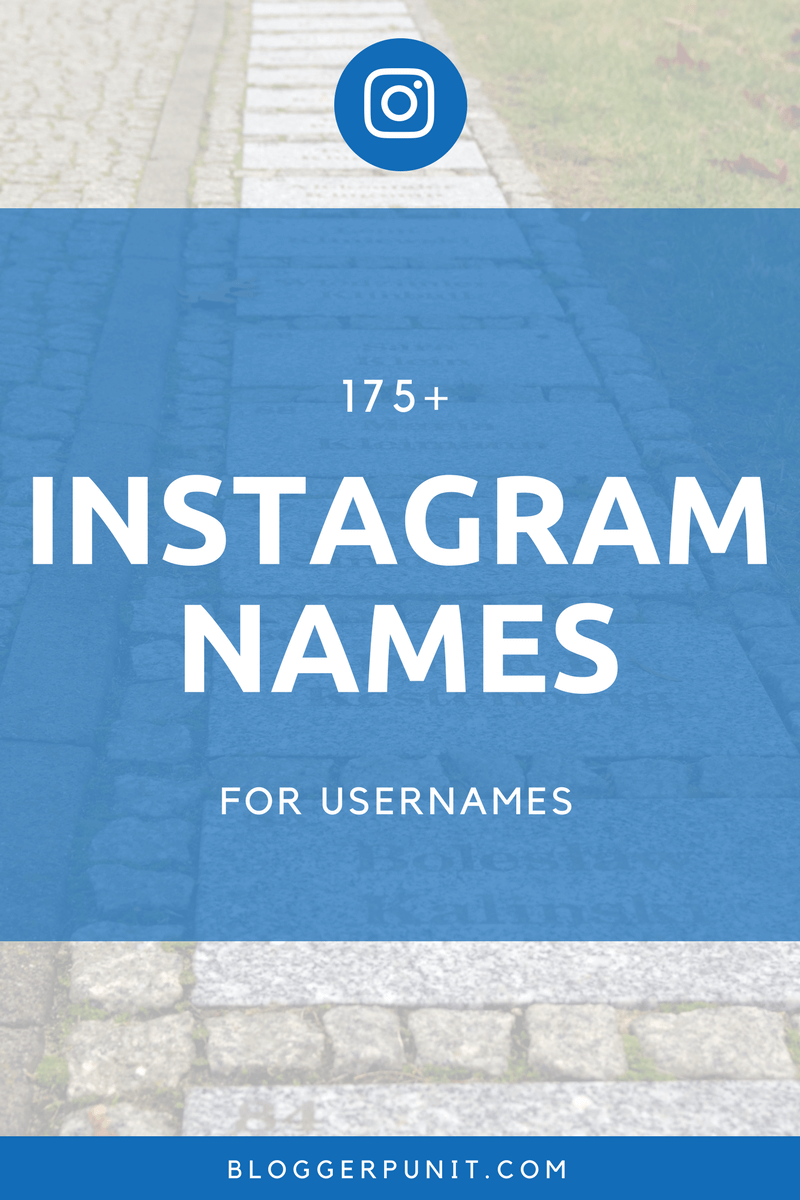 Celebrities, business, fan pages and brands, you can find everything on instagram.
FACT TIME: According to Mark Zuckerberg, an average Instagrammer spends about 45 minutes on Instagram.
45 minutes on instagram alone!!
Just imagine the content creation and consumption rate of instagram.
Instagram is huge!
As instagram makes this great journey, it has improved a lot since it was acquired by Facebook. I am talking about engagement, content creation, instagram polls, ways to make money on instagram and many more.
But today, we are going to look into Instagram names!
Let's get into basics first!
I will try to answer most asked questions now:
What is username for Instagram?
A username is a uniquely identified name that you set on instagram which lets other Instagrammers find you easily.
e.g. @bloggerpunit
Once I sign up with this username, and as long as I don't change it, no one else can acquire the same username.
How do you write your Instagram address?
Every Instagram account has unique URL.
It is: https://instagram.com/[email protected]
eg:
https://instagram.com/bloggerpunit
How do you change your name on Instagram?
Below is the list of Instagram names that I have curated. You can use them by replacing old one.
To change you need to do following steps:
1. Go to settings. (Top right three dots)
2. Scroll to find "Edit Profile."
3. Change username/name.
Now you know how to change your username on instagram.
Moving on to the list.
175+ cool instagram names for username and finsta accounts:
I have categorized instagram names according to their categories. Scroll down to find which suits you best.
If you don't find the one you are looking for, mention it in comments, and I will add them up soon!
Good instagram names:
Pensiveze
Cupreous
Aeviternal
Cleansey
Leviathan
Coercion
Fabmor1Winnow
Dazzled
Celebrated
Litanypro777_xx
Omphalos
Micacraft2835
Glamordobby
Cinnamon
Transpicuous
Penumbra
Celluloid
Sequacious
SwaggkillHumor
Cereology
HanesLithe
Bethesda
Reciprocity
Talismanwas
Sammac2True
Alluvium
Ailurophile
Posiratio
Theophany
TickledPink
Blatherskite
Cathedralwa
Marginalia
FullesHowff
Hallucinate
McmullanMalady
Scialytic
Evanescent
Delitescent
Barmecide
Upskill
Hazelcast
Bandoline
Chiliad
Vervelegmy
Aidgeelg
Ragtopmonk3y
Yaraana
Epitaphy
SurmounBest
Jacqueminot
PilautKeen
Bowdlerize
Amicability
Rightshed
Salinenaxdy
Aesthete
Wundi20Sclera
Le123wiz0Sonata
Bricolge
EscrowVim
AtmofAria
Flying_walRazzia
MattdholLuxury
CadtylerZenith
Addma362
Unipedkett3458
Scofflaw
Junglizotnt
Delitescent
JjplatypusMoving
Penumbra
TheatLapUp
Evocative
PenoyPride
Clavilux
Emaciate
AlehUnity
Generavity
Dependable
Roseate
Summerywas
Prurient
Brecciate
Lullaby
Amin_say
Amphora
Elapseyasp
Cashmere
Frolicwas
TantonSylph
PuckenChoice
Rhysmckee99Sunny
Amicable
Botuliform
Bellswas
Backdouble
Galligaskins
Vicinaly
Labyrinthine
Concinnity
Escamotage
Closeness
SnockhawkFamous
Sardonyx
Cool instagram names:
PurplusSeton
Xenophilia
JosherRounce
Jacobin
Connate
Stritch
Economacy
Beatster
Musroldbox
Equative
Jazzetry
Anabiosis
Faveolate
Ragulykrackr
Quamoclit
Procellous
Tranche7
Benthic
Progenitor
Ulcuscle
MisprizUpher
Limerence
MichaVendee
Theosophy
Speluncar
HarcosBeira
Scansorial
Dispone
Chronomancy
Asseveration
Sialogogue
Koniscope
Solonist
Accourt
Polemology
Animism
Tamaraw
Dolioform
Enzymology
Ostentatious
Lixiviation
Ichnography
Sardonyx
Quiffykat45
Navetan567
Opisometer
Addorsed
GrimshirGodet
Diapason
Coniaker
BeccarPexity
Isodynamic
FoosLogice
JoncjgrahLitote
Glossography
Polysemant
Moocher
Telegnosis
Montiform
Cosmorama
Kinkajou
KirimKraken
Marabout
TildatWoundy
Ablative
Typhlophile
Vermeil
Technocracy
Humongous
Officious
Ruiniform
Iambographer
Humectation
Neencephalon
Vigonia
Zegedine
Protasis
Uliginous
Topophone
Vallate
Embryoniform
Archiloquy
Frottage
Sensile
Styliferous
Nasology
Accessit
Manducate
Dyslogia
Xiphopagus
Sensiferous
Sacralgia
Nubilate
Spicigerous
Quaquaversal
Aerolite
Cerberic
AdrusDossal
Moschate
Prestriction
Nasardtu88
Ichthyophile
Futzler1212
Typhoon
Replica
Solidum
Riposte
Danismriah
Stotious
Endysis
Ergology
Laquearia
Ovibovine
Quicklime
Currycomb
Classy instagram names:
RipleyShimmy
Parisyllabic
Tenaculum
Obluctation
Acuminate
Succour
Exergue
Mensuration
Sororal
Stylography
Vadelect
Poiesis
Cimicide
Nephelometry
Slipslop
Decorticate
Goldenrod
Anergia
Kenophobia
Penniform
Septenary
Tersive
Coniferous
Pateriform
Titrimetry
Conation
Anhelation
Vulnerary
Ekphrasis
Pomander
Trigonal
ArtoisQuoit
Planetogeny
CaptinJersey
Stratocracy
Primogenous
BobbylentPardie
Carnassial
Anserine
Mezzanine
Backpiece
Gladiator
Wegotism
Isodose
Hydrospace
Disbosom
Sovenance
Gerontology
Pourparler
Nephewreasylv
Ebullient
Episcopicide
Mechanolatry
Fipplero35
Scandalitis
Scammony
Stasiology
Brilliantine
Anaglyptics
Claustral
Bartisan
Xylophone
HilloDomal
BirthconJebel
Nepheliad
Forecastle
Bel_razCadge
Nickelodeon
Poundal
Pentagamist
DagfarGewgaw
Adjutant
Schoenabatic
Hircismus
Ekkarill92
Diffugient
Plumigerous
Chevaster
Pandemian
Isentropic
Euripus
Cruralrightm1991
Bilious
Paludal
Anacamptic
Phonomania
Orchestra
Rackrent
Geratology
Commorant
Arguseyed
Trechometer
Pollywog
Gyrograph
Pileiform
BalsamSmalt
Foolocracy
Coriaceous
GlossystavMelano
Bulbiferous
PhenacSpiral
SubstratQueach
DirtcakWigan
UnstabMadras
Nomographer
Throstle
Parapraxis
Cymaphen
Graptomancy
Ekistics
Latitudinous
Opulence
Dipsosis
Ivresse
Papyrography
Parturition
Scabious
Scopophobia
Wanhope
Centiloquy
Isoprofit
Wardmote
Donnism
EplzoomCuddy
JpbladeLimn
KedarHist
JetstraxZonal
Motable
Quotennial
Quinella
Hygrophilous
Galeated
Apotropaic
Chironomy
Diapason
Janitrix
Philter
Venereology
Ignavia
Silicicolous
Ardasshao1706
Xenomancy
Cacography
Plumulate
Obsequent
Sycomancy
Obvention
Huedd117
Ophidiarium
Taffeta
Adnomination
Lithogenous
Uncialgboy489
Attitude names for instagram:
FlamborCouthy
HebertDeasil
BrothelAdorer
Aproposer
Plethorara
PandaisFame
Ooo_Smart
Incalescent
CindywittWhole
OquasLilt
HassonDawn
Magisterial
Chandelier
Airywasy
Mewlhbey
Silenceeyar
Crepuscular
Desirerac11
Beguile
Cynophilist
Bloviate
Heartstop93
Cumulonimbus
Cartesian
Vidiotsiel
Humorbexd
Fulfilled
Lavadero
Bivouac
RightrumAzure
OlipNaiad
Cooperation
Oscillate
Bafflegab
Murmurous
Transforming
Clemency
Ingenue
Cedilla
LobosBezoar
Sirocco
Braggadocio
Phantasm
Sardonyx
Halottux
Persistent
Foodto4314
Crystalzer
Upfrontoi
Fuchsia
Twilightwas
Wanword7
Gloomprop101
Aesthete
Ftwwagz
Voluminous
Affableer
Xenialled5
Ambermaelmb
Lol1o1Elated
Chiasmus
GasserJumpy
CrippledLabial
Inquisitive
Lithiumez
PretextInner
Cyaneous
Tiramisu
Cinnamon
Crescendo
Balbutiate
Prepared
Posiword
Ecstatic
Enthralled
Esperport6245
Tacenda
Howffner396
Vociferous
Sylvankey673
Kalonhman80
Caringboy360
Gladguhr
Warbleduck13
Somnolent
Acquiesce
MadreapHazel
Anfractuous
Winebibber
Babbittism
Adroitney151
Verjuice
Sobriquet
Chrysali
Bijouterie
Simulacrum
Epigone
YeungShadow
MatecImbue
Zyzzyva
AsdfawMagiDelphic
Daphnean
Probang
Bowerwas
Calypsoread
Effableiz
Coloratura
Jokeluem94
Evolvecondly
Cute Instagram names:
Stannary
TharlowNave
Mendicant
Pharology
Daan_Mist
Septemfluous
Epenthesis
Bombosity
Perdricide
Onomastic
Ideogram
Corrade
Heliotaxis
Palamate
Dentiloquent
Philodemic
Vanglipsx
Wackrior1212
Prurigo
Telsondaawwg
Emissile
Musomania
Gonfalon
Accourage
Improvident
Manubrial
Contraplex
Geogony
Cute girly instagram names:
GirlRegnala
GirlSteven
GirlVelar
GirlPharos
GirlPug
GirlGonoph
GirlGig
GirlSansa
GirlNiff
EnneadGirl
PerukeGirl
ToshGirl
CapiasGirl
YewenGirl
ZoriGirl
SylvanGirl
GoralGirl
BailGirl
QuawkGirl
SolaceGirl
YeepGirl
ScholaGirl
EpigonGirl
LuffGirl
RictalGirl
SlateGirl
ForthyGirl
BlainGirl
YautiaGirl
TuzaGirl
SpoolGirl
GirlOosh
GirlDejon
GirlGalan
Haosx0Girl
GoingGirl
WiidGirl
HeensGirl
Relationship instagram names:
FalessMolto
Crotchet
Tritone
Harmony
LasalSharp
KairPCont
Crescendo
Dominant
HypecauSegno
QuarterNote
AvilStem
P_assasCoda
Symphony
Measure
Fluxed3Lydian
Scherzo
GoraudRest
Skejcik9Fugue
Interval
Espeo9Fourth
Semplice
MajorThird
Aeolian
MezzoForte
Dissonance
Ariosoblexx
Furioso
Invention
MinorThird
WholeRest
BreathMark
Overtone
Prestissimo
SContmany291
Cadence
Blueszie0124
Fifth_girl007
Musictor9xx
Marcato
Flatcar141
ConBrio
Meterr_a3
Allegro
Sostenuto
Trilltarsj
SottoVoce
Dynamics
Tempodon1229
Beat46er
Pitchbub17
Counterpoint
Espressivo
Accelerando
WholeNote
HalfStep
Tablature
Chromatic
MashuumSubito
Pentatonic
BovetStave
Natural
DaethSimile
Notation
DaxxosMajor
Scherzando
Supertonic
IonianMode
Andantino
HalfNote
DorianMode
Intonation
Moderato
Pianissimo
MincecRitard
ZomgimMelody
DetrevForte
SmontetMinim
Decrescendo
QtreePlay
CartonChord
Octatonic
Tonicman044
Phrasedis12837
Rhythmler1122
Prestochux
Sforzando
Rallentando
Pesante
Tenutobletz
Libretto
QuarterRest
Accentsam20001
Vivacestinky
Grandioso
QuaverRest
Harmonics
Octavekman22
Fortissimo
Arpeggio
Flaglay142
Best instagram names for girls:
Acervuline
Scofflaw
DowskiCouthy
NaiqSpool
DowellAmple
Voluminous
Breezemand144
Pirouette
Agilely
Movedyway2000
Waitron
PresurKeek
JackgamWater
Apropos
SillybillQuick
Posiratio
Fortuitous
Douceur
Mimesis
RawrginMajor
Milo_Bonus
Surprised
Martlet
Thalassic
Propinquity
Chiaroscuro
Funambulist
Xoring888
Bradykinetic
Zing_out39
Miasmatim1
Aeneous
Reposesman325
Groovyzemc
Butyraceous
KamueSavor
Meritorious
Dariole
Vivacious
Appreciable
McpheelyLively
Lattice
GelbmannHearty
The_magSkanky
Quintessence
Etiolate
Alohanic64
Coquelicot
Halluxdam_rsx
Emaciate
Laurelwas
Bardiglio
Respected
Innovate
BedpanLimn
DrakonfSable
Funerific
DoggonDivis
BrandopBubbly
Hacienda
Presenteeism
Caressmil2001
Lassitude
Amazesgo0507
Genialkeebz
Activeharkmmm
Nectarwas
Posiripple
FiorkPious
Enchantedwas
FullyheadWow
Quiescent
Bibelot
Laodicean
You will hardly find short (less than 6 words) instagram names not taken by people. But I have found these 5 word usernames which are below:
Short instagram names not taken yet (updated March 2018):
I update this list month after month. If all the names are gone, wait for next month.
You can subscribe below to get updated list instantly when the post gets updated!
1. jorv3
2. jutq6
3. puzth
4. ptpc7
5. punif
So this was the list of instagram names for your instagram usernames. If you need any specific categories, do let me know through comments.
Also if you like the article, please share it!
[instagram-feed]