Why Blog?
Blogging is art of expressing oneself through writings. Couple of years back, blogging was considered as expressing your thoughts and views. But now it has changed the world.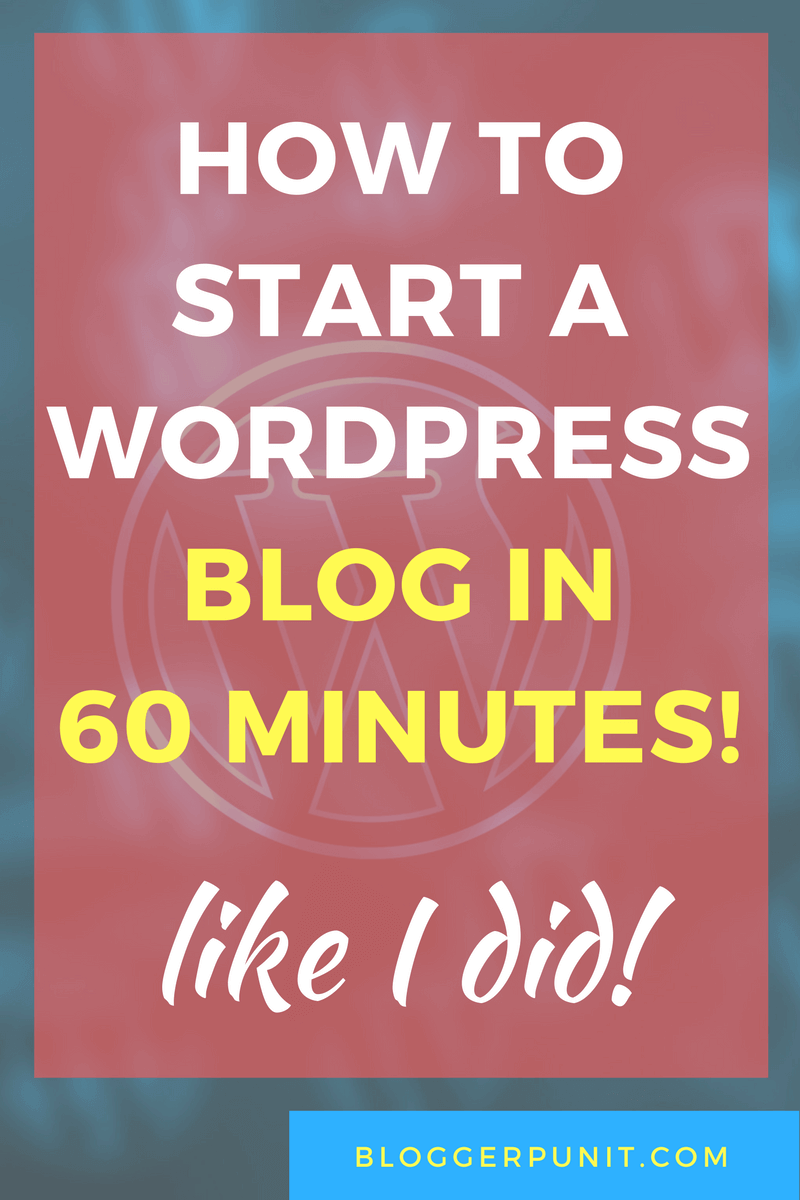 Now, Blogging is not limited to sharing personal experience but it is essential in Ranking your website in Google Search Engine. This is the only guide you will need to set up Your own Blog under 60 minutes.
So now, its Time to Begin!
What you will need:
1. 60 minutes of your life ( Probably less)
2. Credit card/Debit card (For Buying domain and Hosting) – You might need to invest a little in the initial stage, but trust me it'll be worth it!
3. Basic Computer Knowledge – One need not be pro in coding or must have technical knowledge to start a blog. It's just a piece of cake for people who have basic computer knowledge like visiting websites, buying online, surfing for hobbies and so on.Anything apart from that… Leave it to me.
Let's do this.
How to Start a WordPress blog

in 60 minutes

Like I Did!
Selecting a niche (Topic ) for your blog:
This is the first step you take when you start a blog. Niche is nothing but the topic on which you will be posting things on. For example – Mashable – The famous Tech blog which brings you the best of technology posts daily. So their niche is technology.
Selecting a niche is not a difficult task. It can be anything you like, any of your hobbies, something you love, something you hate,the world is at your feet.
I love blogging and Instagram, so thats my niche!
Tip: Many people chose tech related blogs, but let me tell you there are over 5000 tech blogs created every day! And most of them go in vain. Unless you have an absolutely stunning approach towards technology or new discovery, I suggest you stay clear from it.
What is Micro-Niche blog?
As the name suggests, it is micro version of niche. For example – Social Media Tips. There are many social media sites like Facebook, Twitter, Instagram, Pinterest, LinkedIn and so on. If you know Pinterest marketing, then blog on Pinterest tips will a micro niche of Social Media Tips.
Take some time in Selection of niche as it is very important.
Make sure it is interesting enough so that you wont lose interest some way down the line and also, has long term scope. By now, you better close in on your Niche (topic).
If you search the web for "setup Free Blog", you will land up on WordPress.com or Blogger.com site. They will help you to create a blog on no time for free but you will have a blog url like: BloggerPunit.blogspot.com Or BloggerPunit.wordpress.com that are complicated to remember.
I tried creating blogs that give free domain names with their own extensions too using Blogger.com and WordPress.com and Here are my experiences!
Problem with Free Blogging Services: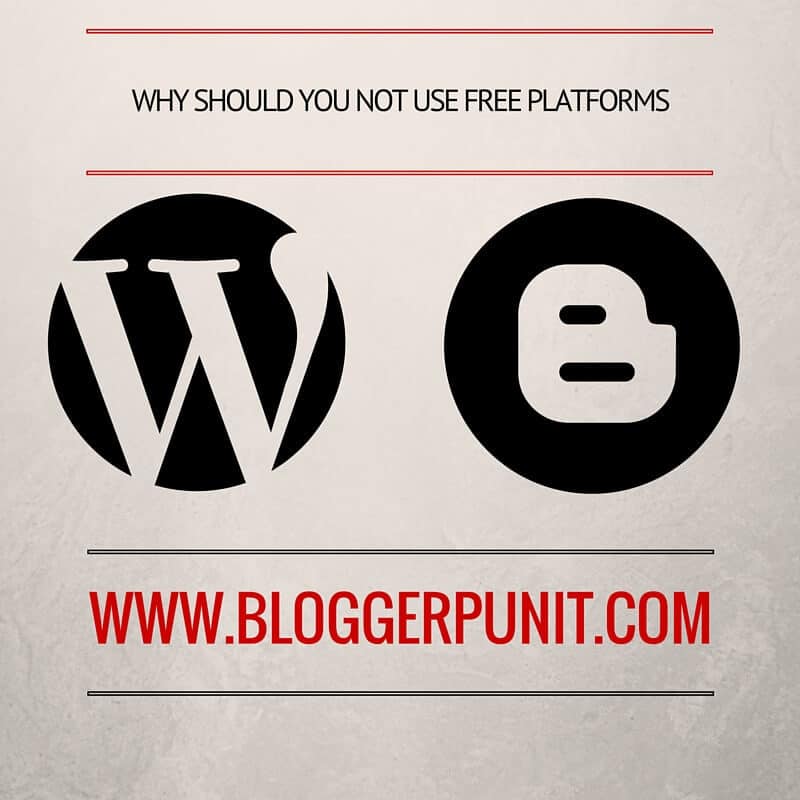 Blogger.com : I created a blog using Blogger.com in initial stage of my blogging career. The blog was called Teasetech.Blogspot. Com. When I posted something about hacking, it was taken down by Google for inappropriate content. My Blog was literally REMOVED! So you basically have no control over a blog created using Blogger.com, it may just disappear! Imagine your 20 articles worth effort just turning into dust! Google won't ask you to edit any content, it will directly ban your blog over night if they find something unusual. In plain words, man that sucks when it happens!
WordPress.com : After the ban, I turned to WordPress for a free blog. Compared to blogger.com, WordPress was friendly about the content but they lack professionalism. It's easy to setup free blog on WordPress.com but you will get limited features. There will be no Plugins and other stuff. It won't make your work easy. And obviously there is a fear of this blog getting ban too! If you got for long term blogging, then you should definitely go for one which is Self-hosted.
Also read: How I check my articles for Grammar Mistakes here
Now, My Website – BloggerPunit.com is easy to remember, sounds tad bit professional and also is self-hosted means I control everything on my blog ranging from code to Theme.
Let's get Started with Making a website/blog:
For Blog you will need two things :
Domain Name (Title of the Website or Url)
Hosting (For hosting your Site and Data)
A Domain name is the name of your website. Like BloggerPunit.com After you have selected a topic to blog, you will need a domain name.
Want A free .com Domain? Move to Hosting Section!
What is a Self- Hosted Blog?
A Self-hosted blog is hosted on Another server and not on Google or WordPress. Using a self-hosted wordpress blog gives greater control over your site as well as the content you publish.
Benefits of having Self-hosted Blog:
Full Control over Content.
Automated tools available (WordPress)
Nothing can pull down your website except You!
Helps in ranking your site in search engines.
Why WordPress?
WordPress is a content management system. It helps you to manage all of your data on Website. The debate still exists whether Blogger or WordPress is best for website platform.
Regardless, I personally would place by bets on WordPress ,because of it simple and ease to use.
Any beginner can create and post on his/her website in no time at all. WordPress has various plugins which makes it easy for to manage your website and have full control over it and also it makes marketing easier.
Let's get Started with Making a website/blog:
For Self-hosted Blog you will need two things :
Domain Name (Title of the Website or Url)
Hosting (For hosting your Site and Data)
A Domain name is the name of your website. Like BloggerPunit.com After you have selected a topic to blog, you will need a domain name. Want A free .com Domain? Move to Hosting Section!
Choosing a Domain Name :
First, you can choose a domain which is available and yet not registered by someone else. You must register a domain by buying it. You can go to Godaddy to buy one. It's very cheap approx $0.99 for the first year!
NOTE: Domain name must be available for buying. To check the availability of your domain name. 
I strongly recommend getting a Domain from Hosting as you can install WordPress on your Domain in One Click.
Tips for selecting a domain :
Keep it short and Simple.
Choose something which is Easy to remember.
Write down all the suggestions on a paper and choose what's looks best. It may include Niche Name.
Eg If your blog is going to be about blogging, you may go for Bloggingtipsandtools. com Or Bloggingworks. Com
2. Hosting:
There are various hosting programs out there. But which one is suitable for you?
Top 5 Hosting Programs:
Based on my Experience, I strongly recommend BlueHost hosting program for hosting your website. They have unlimited bandwidth and 24 hour support. I Have never faced any issues in their program. Plans Starting from $3.5 per month. 
How to buy hosting for your site?
Step 1:
Go to BlueHost. OR Click on Button Below.
Select the hosting program you want.
Suggested: Basic .It starts from  $3.95 per month. Accordingly, along with your plan you'll get a Free domain!
Step 3:
Choose a Domain.
If you already have a domain. Enter Domain Details.
Sign up for a new account. Make your payment and Remember the Login details.
Installing WordPress On BlueHost:
Almost all Hosting platforms have One-Click WordPress installation facility.
Scroll down and find Scripts or use the search bar to Search – WordPress.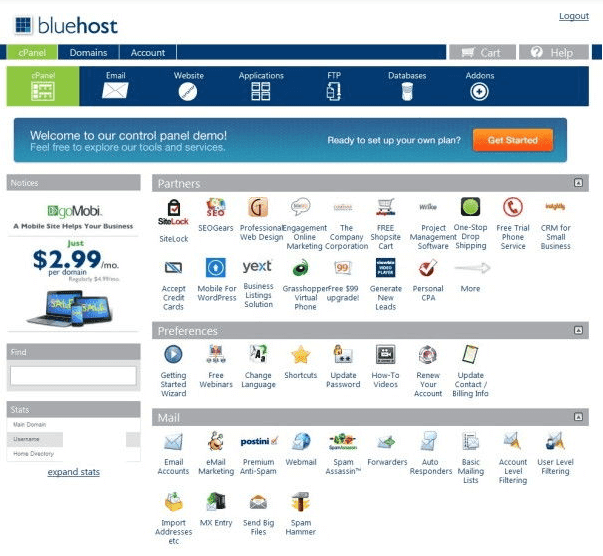 Click and Install.
Enter Details.

Choose a Strong Username and Password

for your site.
Note: You cannot Change your username once Selected.
You will get your Login Details in your Mail. 
Done!
After Successful Installation of WordPress, to Access your WordPress Dashboard:
Go to – Your-website.com/wp-admin
And Your have finally Completed Setting up A wordpress blog.
This is how to start a wordpress blog in 60 minutes! Congrats! You are officially a blogger Now!
Start posting on your blog. Let your Friends know about it.