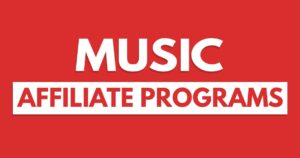 Know it all about music affiliate programs
Music is a part of our lives, whether it's for relaxation or inspiration. Music affiliate programs are a great way to make money in the music industry.
There are a variety of ways to make money in the industry, and each of them has plenty of potentials.
The total value of the various niches in the musical instruments industry is estimated to reach over $34 billion in 2021. That makes it the most valuable segment of the entire market.
The music affiliate programs are designed to cater to various types of people in the music industry, and these can be part of it all. The music industry has a wide variety of products to offer. Some of these include music downloads, CDs, and more.
<>Best affiliate programs for music

p>There is a hell of a lot of music affiliate programs, but are you looking for the best affiliate programs for music to monetize your website?
Then don't worry as we have got your back. There are many high paying affiliate programs just for you.
Following is the list of top music affiliate programs:-
>
1. Masterclass AffiliateWhile it's possible to make a lot of money by referring people to music stores, commissions in the music industry are typically higher. Enter MasterClass, an online education company that features classes designed for both individuals and groups.

Ever wanted to learn guitar from Carlos Santana or violin from Itzhak Perlman? MasterClass is all that you need! With over 20 years of combined experience, the instructors of Masterclasses are highly skilled and have a wide variety of expertise in various arts.

You may earn a hefty 25% commission on all sales. Acceleration Partners will provide you with a dedicated account team as well as a twice-monthly email with a variety of marketing resources to make business life simpler.
2. Apple iTunes Affiliate
ngs, albums, audiobooks, movies, and TV series are all available on iTunes. It is also quite popular all around the world. As a result, Apple iTunes is very advantageous to the market.

Influencers who aren't just in the music industry may also profit from this platform.
Membership in the iTunes affiliate programme takes around 7 days to be approved. Influencers may produce links and distribute them with their followers using the Blink app on their phones.

The sales commission is 7%, and the cookie duration is 24 hours. Bill is made 90 days just after purchase. Because of its vast reach, iTunes has become an extremely lucrative affiliate income source. A single Twitter or Instagram post from an influencer with a large following can result in a large number of conversions.

As a result, if handled correctly, among all the music affiliate programs, this may be a big moneymaker.
Does Spotify Have an Affiliate Program?
ong with iTunes, Spotify is one of the top music companies. But does it offer an affiliate program? The answer is NO.

Spotify Affiliate Program does not simply exist and neither it has any referral program. It indeed is a bummer, but there are Spotify Affiliate Program alternatives.
3. Guitar Centre Affiliate
itar Center is the biggest music shop business in the United States, with 294 locations from coast to coast. It promises to have the world's greatest collection of music equipment, with over 40,000 items ranging from high-end headphones to symphonic instruments. Guitar Center provides anything you can pluck, blow, or bang.

Every week, it adds new goods to its list, including some that are only accessible through its online store. There is also lots of profit to be gained here, with commissions of 6% on every transaction and a 7-day EPC of $16.90. The Guitar Center affiliate programme is a wonderful revenue source if you have a large amount of traffic and a lot of items.
4. Pianoforall Affiliate
day, amongst the most renowned online learning programmes is Pianoforall. It provides budding musicians of all levels with e-books and videos to help them understand and enhance their piano abilities. For those who prefer to retain a copy, there is also a DVD option.

The program isn't only for pianos; it's also good for most keyboard instruments. The affiliate programme is highly thorough, and each sale earns a whopping 60% commission. The cookie will last for up to 90 days.

The registration procedure is simple. The firm also offers ad materials to help marketers create campaigns. The firm is also highly helpful to new affiliate marketers, providing assistance in a variety of ways.

Affiliates are typically paid or twice-monthly, through check or direct deposit into their banks. The above programme stands out because of its excellent commission rates and long cookie time, creating it unmatched inside this category.
5. Amazon Associates Affiliate
ile you may be aware, Amazon offers virtually anything in every business conceivable.
Its music library includes everything from $5 sheet music to $1,500 grand pianos. For affiliates, Amazon Associates is often a safe option.

You can trust that The Divine Bezos will guarantee that items are delivered on time and also in good shape, that their returning policy is unrivalled, and that their customer support is second to none. But the story isn't all positive. It offers only a 3 per cent commission rate, and the cookie lifespan of 24 hours is short, to say the least.
6. Thomann Affiliate
th over 80,000 titles in its inventory, Thomann is Europe's largest music retailer.
It offers a wide selection of small studio recording software from manufacturers like Steinberg and Sonarworks, including more esoteric gear like graphic equalisers and psychoacoustic effects, in addition to instruments and microphones. Affiliate marketers that meet certain criteria can even use test equipment to conduct product reviews.

All items are covered by a three-year warranty and a 30-day cash-back guarantee.
While Thomann's affiliate programme conditions tend to be a bit tight in comparison to a few of the smaller businesses on this list, they hold their own against Amazon.

Varying categories of affiliates receive different fees. Forums and meta networks are paid a fixed fee of 2% every sale, with authoritative sites and publications paying 3.5 per cent and influencers 4.5 per cent. The platform's normal rate of exchange is about 5%, which has assisted Thomann's affiliates to produce over $6 million in sales.
7. Emusic affiliate
usic is a musical instrument internet retailer based in Malaysia. They include pianos, clarinets, flutes, trumpets, violins, and many more instruments. The items are considered reasonable and of excellent quality.

They frequently conduct special deals and provide cheap items. The commission per sale or cookie length is not specified on the site. They are, nevertheless, one of the very few Malaysian online musical businesses with an affiliate programme.

This platform may provide a big revenue to influencers in this region who have a large number of followers.
8. Singing machine Affiliate
raoke is a lot of fun, but doing it in front of a pub full of strangers is a poor idea. Nerves, that is. The possibility of humiliation.
That's when Singing Machine enters the picture. It's a one-stop store for anything karaoke-related. They provide gadgets with incredible features as well as a music collection for karaoke fans.

This was the very first corporation of its sort in the United States. That has its music shop with singalong oldies (Kenny Loggins, anyone?). It also sells real karaoke items like speakers and microphones.

This affiliate programme offers a 5% commission on each transaction and has a 30-day cookie term.

It is indeed a one-of-a-kind platform for influencers with little opposition. The items are both affordable and of good quality. The firm has a good reputation, and also many households would appreciate having something similar in their house.
9. Singorama Affiliate
ngorama is a web-based training programme for budding singers and composers. It is beneficial to individuals who want to increase their vocal strength and range. They provide both digital and physical items, such as DVDs, that may be sent to clients.

In the event of immediate downloads, affiliate members receive 70% of the sale and 40% in the case of delivered items. The cookie lasts for 60 days. Singorama works with Clickbanks to track traffic and compute commissions for members.

You'll also get commissions on consecutive sales, making this one of the greatest music affiliate programmes. Clickbank is used to sell and monitor all of the courses.
10. Orangewood Affiliate
angewood is a Los Angeles-based online-only guitar company. It maintains prices low by selling directly to the consumer, without sacrificing quality. However, the D2C model benefits more than simply customers.

Orangewood can reward its affiliates majorly by cutting off merchants, indicating you may earn up to 15% of every sale. That's an appealing offer, especially with an average selling prices of $250.Orangewood publishes a monthly email with information on specials, contests, and sales opportunities to assist you.

It is one of the greatest music affiliate programmes we've seen, so don't lose out and sign up with ShareASale.
11. AudiMute Affiliate
dimute is a family-owned company that specialises in soundproofing. Panelling and sheets, ceiling panels, acoustic barriers, and mounting gear are just a few of the items available.
Soundproofing options for homes, businesses, and studios are also available from the organisation.

In a nutshell, they provide all soundproofing services and goods. It's a large number of potential customers for affiliate marketers to reach out to.

Whilst the commission rate of up to 5% per sale may not sound very appealing, an average transaction value of over $200 and bonuses for best performers more than compensate. The cookie will be tracked for 60 days.
12. Rocket piano affiliate
cket Piano is a website dedicated to teaching people how to play the piano. It includes instructional films that take learners step by step through the procedure. They pay a 75% fee on video downloads and a 25% commission on physical copies.

The cookies are tracked for 90 days. These are quite generous figures, and they are among the largest in the piano instruction speciality. The site is well-liked by influencers since the company has good ratings and the payouts are quite attractive.
13. Prime Loops affiliate
ime Loops is a music producer's online resource with audio samples and music presets. Although the collection is small, the content is of exceptional quality. The samples come from a variety of musical genres and may be listened to before making a purchase.

Every sale generates a 20% commission for the affiliate programme. The amount is paid every quarter via Paypal, with a £100 minimum payout. The cookie period is not specified; however, once a marketer joins the programme, it will be revealed.

For the cost of the tracks, the commission rate is fairly reasonable. This scheme may provide a good income for a music influencer because most consumers make any purchases.
14. Musician's Friend Affiliate
ician's Friend may even bring Amazon's inventory to shame, with over 85,000 unique music goods available. Lots of new and also used guitars, as well as keyboards, drums, and other instruments, are available in its inventory.

The company also offers a prominent rewards programme that pays members 8% back in rewards, free ground delivery inside the contiguous United States, and access to a VIP phone line.

Each sale generates a 4% commission for the affiliate programme. The cookie is valid for 14 days. Users of the programme also have exposure to exclusive bargains and offers designed to increase conversions. You can understand why it's named Musician's Friend because all guitars come with a complimentary two-year guarantee.

You can also market music affiliate programs on instagram. Here is a guide to instagram marketing
>A Round-Up of Appealing Music Affiliate Programs
ffiliates may earn money in the music business in a variety of ways. There's a bunch of income power here. Although earnings on instruments and equipment aren't always tremendous, because the usual music affiliate programs focus on premium items at high price points.

With the appropriate strategy and content development skills, anyone may gain from these music affiliate programs.